The Teardrop Nanny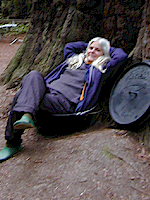 Joined: 12 Aug 2008
Posts: 355
Location: Northwestern California
Posted: Sunday 1-8-2017 2:02 pm

Post subject: Outdoor Cast Iron Cooking: Dean & Joanie

---

Hi Cast Iron friends! Happy New Year to all of you.
Just to let you know Dean and I continue to visit the forum and enjoy the recipes shared here. We are still filming and adding new webisodes on our channel. Sometimes they get posted here, but not always, so feel free to check out some of the newer ones when you can. Happy trails to you,
Joanie www.youtube.com/outdoorcastironcook

_________________
For a preview of our cooking channel with recipes and webisodes done especially for use in Cast Iron, Camp &Dutch Ovens visit us at www.youtube.com/outdoorcastironcook

Life is uncertain....eat dessert first....preferably one cooked in a Dutch Oven.
Brownie



Joined: 04 Nov 2014
Posts: 130
Location: NW Arizona
Posted: Sunday 1-8-2017 6:41 pm

Post subject:

---

Thank you for the reminder. I love your videos. I have tried and been successful with many of them. I tried my first dutch oven pizza based on Dean's post here. I think he said he tried it for the first time to make your girls happy when you went camping. Unfortunately, now we can only eat home made dutch oven pizza...no more take out for us HAHA!!! Have a wonderful 2017!!!!!