Black Iron Chef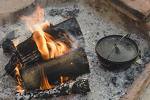 Joined: 05 Oct 2009
Posts: 251
Location: Alberta Canada
Posted: Monday 1-14-2013 12:25 pm

Post subject: Wanting to Start A Dutch Oven Group in Calgary Alberta

---

I am looking for some like good people with Dutch Ovenitis to Start a "Support" (Dutch Oven) Group here is the Calgary Alberta Region. To help us through this difficult dibilitating additction, by getting together often to talk about it and share our addicition with each other and other potential addicties.

Please contact me @ blackironchef@gmail.com.

Many thanks
The Black Iron Chef
(Bryce)
_________________
Everything Tastes better cooked over a campfire.